We went apple picking this past weekend! Me, the hubby and our two little roommates! (That's what my hubby likes to call our two kids! Makes me laugh every time!)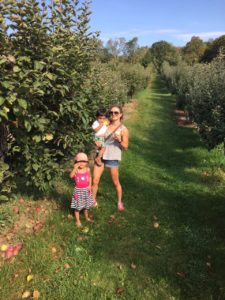 So off we went picking apples in 30 degree weather.
Yeah it's been kinda crazy warm weather here in the Toronto area this  September. We laugh about it being the hottest part of our summer. Although it's not a joke, we've had a kinda' crappy summer weather wise.
At our fav apple orchard Pine Farms in King City only 10 minutes away from our home, we picked two large bags full.  We got a good assortment as we picked from all of varieties that they had ready for picking. I don't even remember all the names of the varieties we picked (nor can I distinguish them in my fridge!) but I know we definitely got some Honeycrisp cause they're my fav!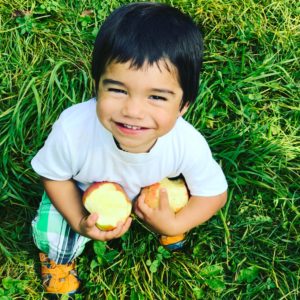 One of the recipes I want to share with you today isn't a dessert or snack recipe, it's a breakfast recipe that I created last year. My husbands favourite;  apple pancakes.
I love these babies because they aren't skinny and floppy like most pancakes. And what that means for moms, is you can have leftovers, and pop them in the toaster the next day without worrying about them crumbling and falling apart, and having a toaster crumb fire.(oh yeah you know what I'm talking about!)
They're also awesome cause kids like the taste, plus they pack a punch of protein, omega 3's, healthy fats and won't have your kids asking for a sugary snack within the next hour. (Yup, it will keep you and them feeling full, and everyone's brains working for hours)
This recipe is:
-naturally sweet
-crunchy
-high in protein
-contains omega 3's
-sugar free
-toaster-able
-dairy free
-nut free
Ingredients
1 cup water
1/4 cup dates
1 tsp cinnamon powder
25ml hemp hearts
1 large egg, beaten
2 Tbsp chia seeds
1 medium apple grated/shredded
2 Tbsp coconut oil, melted
Extra water as needed to thin out batter
3/4 cup sprouted spelt flour
1/4 cup quinoa flour
1/8 tsp salt
1/4 tsp baking soda
2 tsp baking powder
1/4 cup raisins (optional)
Instructions
In a blender add all cinnamon hemp milk ingredients and blend until smooth.
Mix all wet ingredients together in a small bowl including hemp milk
Mix all dry ingredients together in a large bowl
Add wet ingredients to the dry ingredients and stir to combine.
**this batter will be thicker than most "normal" pancake batters. (if it's too thick, add water 2Tbsp at a time)
On a hot griddle or pan on stove top, drop approx 3Tbsp batter ( flatten if need be) per each pancake.
Cook on one side for about 3 minutes and then flip to cook on the other side for about 3 minutes.
* these pancakes won't bubble like "normal" batter does so it won't give you the visual clues as to when it's the right time to flip. If your spatula slides under the pancake well then you know it's ok to flip.
http://www.fittritious.com/superseed-apple-pancakes/
PS, if you're looking to use up some more of them apples, check out my amazing Apple Cinnamon Garden Salad. Try it this weekend for your Thanksgiving gatherings!